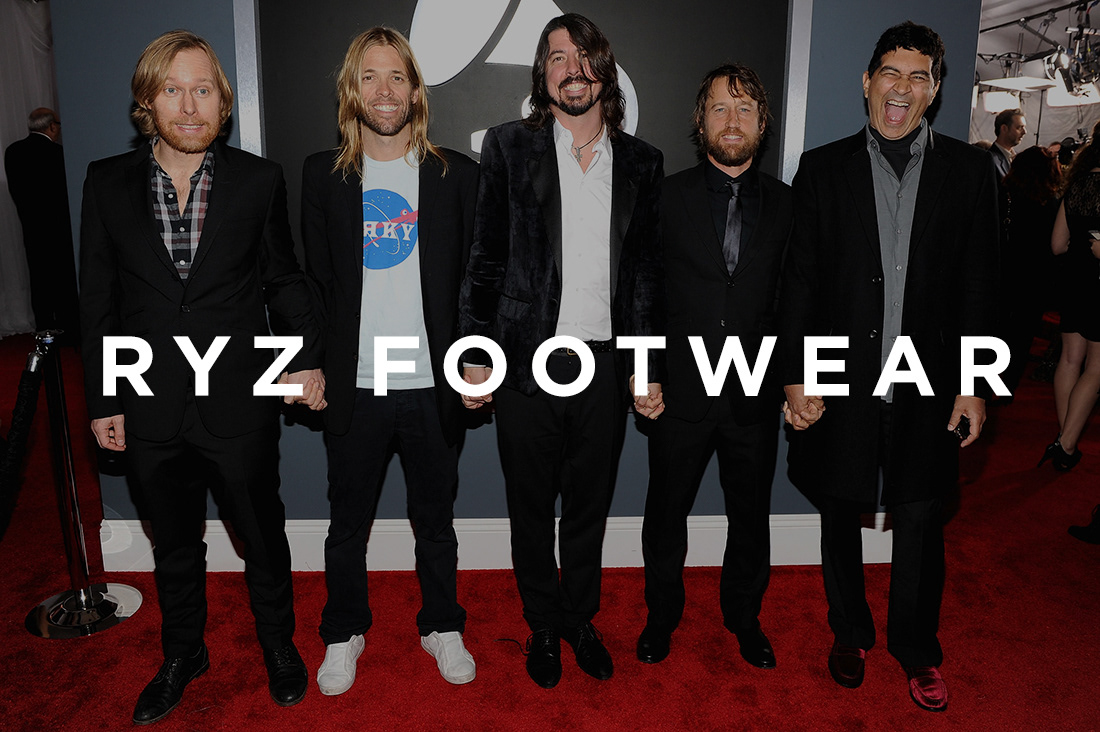 From 2009 until 2012 when it was sold, I was the Creative Director and Senior Designer of the footwear company RYZ, founded by the former President of Adidas, Rob Langstaff. My footwear designs landed us in Berlin with an ISPO Award, and on the red carpet at the Grammy's and MTV Movie Awards. My designs were also featured in numerous publications such as Men's Health, Success Magazine, Sportswear International, and Footwear Insight to name a few. Ironically, since the selling of the company and trademark expiration, both footwear giants, Nike and Adidas, have launched footwear with the name RYZ.
Rebranding: Design + Concept
RYZ was launched a year prior to me joining the company. Originally called RYZWear, with brand colors consisting of yellow and royal blue, it was a crowdsourcing platform where average consumers could "design" their own shoes by uploading their own art to the website. The designs were posted for a public vote and the winning design was sent to production. This early concept, while game-changing in the footwear industry, left the company with a tremendous amount of expensive inventory due to poor quality designs.
Shortly after I was hired as the Creative Director, I rebranded and re-conceptualized the company. We shortened the brand name to 'RYZ' and changed the brand colors to silver and black. The company image transitioned to a sleeker, more modern, and luxurious version of its previous self. The concept changed from average consumers designing our footwear, to talented artists designing our footwear. RYZ became an elevated and fashionable lifestyle footwear brand. Due in part to my connection with a prevalent artist collective, we partnered with well-known and extremely talented artists to bring limited edition artist series footwear to market. We also offered these silhouettes in standard, non-artist versions at a lower price point.
Product Development:
The original shoe, that was developed before my time with RYZ, was a very clunky, unflattering, outdated design, which negatively impacted sales. Although this was my first venture into the footwear industry and footwear design, I created three new standard silhouettes that were refined, modern, and unique, while maintaining a classic look. The new styles were versatile. This "distinguished streetwear" was elegant enough to be worn with a suit, and casual enough to be worn with jeans. Market research in the industry, along with trend-forecasting and material and color exploration, were key components in this development. From ideation, to the molding, sampling and production processes, I worked with factories and production teams in the United States and overseas.
Advertising & Marketing:
With the increased hype around streetwear and the new indie market, we were able to establish ourselves as a real player in the footwear market that was exploding at the time. Through representation at trade shows, our new footwear designs began showing up on television, in industry magazines, and on the feet of some prominent celebrities.

As the Creative Director and Lead Designer, I designed, directed and implemented all campaigns for advertising and marketing. I directed all photography for lookbooks, social media, internal and external e-commerce platforms, and more. I also curated the largest to date "artist and footwear" collaboration with the President of the Keystone Design Union, David Gensler. With the goal of reaching a global market, twenty well-known artists participated, representing the U.S., Japan, Germany, China, Indonesia, United Kingdom, Norway, Australia, Poland, Argentina and Guatemala as part of the World Paradigm Collection. Some of the participating artists included Aerosyn-Lex Mestrovic, Chuck Anderson (NoPattern), Edgar Gonzalez, Jan Hakon Robson, Magomed Dovjenko, Matt Moore (MWM Graphics), Nasa, Nigel Evan Dennis, Shadow Chen, and Si Scott.
RYZ Footwear

 / Lookbook Creative Direction + Design
RYZ Footwear

 / Footwear Designs + Product Photography
Taylor Hawkins, the drummer for Foo Fighters

, was a big fan of my RYZ shoe designs. He rocked them to the Grammys, to the MTV Movie Awards, in the Foo Fighters' video for their single "Rope", on Howard Stern's SiriusXM Radio Show, in Rolling Stone Magazine, to Soundgarden singer Chris Cornell's funeral, and more. Below are some examples of these in the press and media.
Wearing the white RYZ L-G3 shoes at the 54th Annual Grammy Awards.
Wearing the white RYZ L-G3 shoes at the 2011 MTV Movie Awards.
Wearing the white RYZ L-G3 shoes on Howard Stern's SiriusXM Radio Show along with singer Dave Grohl.
Wearing the black and white RYZ L-G3 shoes to Soundgarden singer Chris Cornell's funeral (right), to a Burberry event (top left), and on SiriusXM with Soundgarden (bottom left).
Wearing the white RYZ L-G3 shoes while on SiriusXM with Soundgarden members Chris Cornell, Ben Shepherd, Matt Cameron, and Kim Thayil.